Mon 12
Jul 2010
Avatar is set to return to IMAX for a two-week re-run starting August 27, 2010 (with eight whole minutes of additional footage!)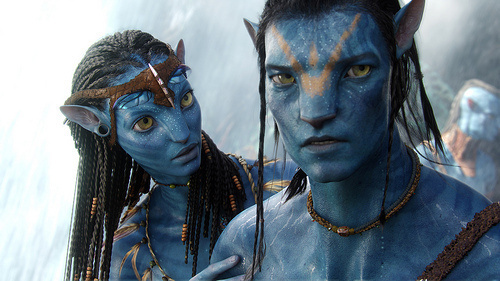 Avatar:
back in theaters August 27th. While I won't call it the most intellectually challenging movie of all time, I enjoyed Avatar the way I do a good rollercoaster, and I'm looking forward to one last ride. Moreso, I'm looking forward to laying eyes on those hot aliens again. A combination of super models and cats, James Cameron gives us the most irresistible combo since peanut butter cups.
He wasn't the first one with that idea, though. In fact, the Na'vi are just the latest in a long line of cat-themed sexys:
1942
A movie about a Serbian-born fashion designer who transforms into a black panther. Prrrrrr.
1966
Adam West's Batman gets a new adversary: a sexy woman who dresses like a cat, ties him up, and flirts with him.
1970
Hanna-Barbera brings the comic book characters Josie and the Pussycats to life on Saturday mornings, giving many young boys new, unfamiliar stirrings.
1974
Marvel introduces Tigra, designed to have 'special appeal to girls.' Yeah, okay. Them, too.

1982
Nastassja Kinski remakes Cat People, adding much-needed nudity.

1987
Linda Hamilton and Ron Perlman bump the fur in a TV version of Beauty and the Beast.
1989
William Shatner's poorly-conceived Star Trek movie introduced this unlikely creature: the tri-breasted cat-woman from Nimbus III. (wish I were kidding)

2009
Teenagers around the globe touch themselves to the digitally-created, perfect figure of Neytiri in James Cameron's Avatar.