Thu 19
Aug 2010
Lisbeth Salander is back, with 3 billion Kroner(400 million U.S.) in her pocket and an apartment to furnish. So of course she heads to the exclusive

The Girl Who Played with Fire,
brought to you by IKEA and 7-11 IKEA, purchasing two Karlanda sofas, five Poäng armchairs, two clear-lacquered birch side tables*, a Savansbo coffee table, and several Lack occasion tables. And that's not a quarter of what she buys, but don't let me spoil your fun. Pick up a copy of The Girl Who Played with Fire today and read the complete list. And hold onto your Verksam chair for the shopping trip of your life.
While it's easy to blame the excessive product placement in the Millennium Trilogy on a combination of an overly-greedy trust and an author too dead to protect his own work, it's equally as easy to see how product placement fits hand in glove with Stieg's writing style. Namely that he documents every single little aspect of his characters' day, forgetting no meal and leaving no cup of coffee to the imagination.
I've been deluded by the belief that writing was life without the boring parts, but Stieg bucks this trend, detailing every action in adjective-less prose reminiscent of a shopping list. So obsessed is he with detail that the first 250 pages of this seven hundred page tomb pass by before the action gets rolling. Unless you consider buying frozen pizza at the 7-11 action. Because that happens a lot.
Here are a few spoilers:
On p.198, Salander goes to the OnOff on Sveavägen and buys a laser printer cartridge (but prints nothing during the entire book).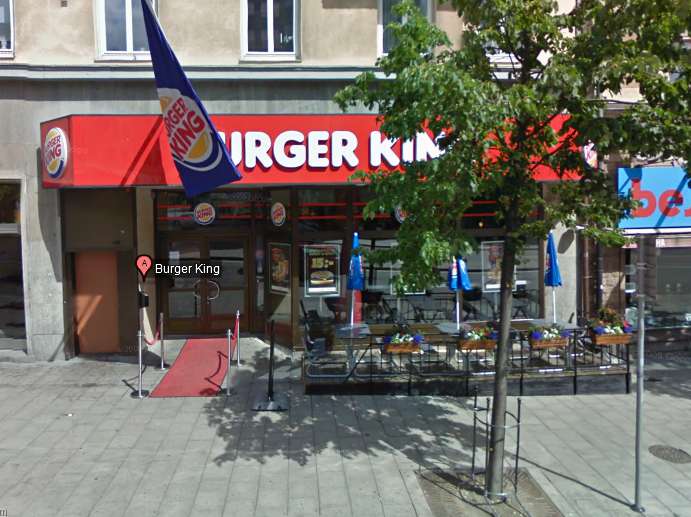 The Burger King at Odenplan, key source of
sustenance in this edge-of-your-bib thriller.

On p.283, a couple of police officers eat at the Burger King on Odenplan (Modig had a Whopper and Bublanski a veggie burger).

On p.649 it's revealed that Salander owns a Palm Tungsten PDA.
So, seeing as how Stieg had already put the fascinating in filler, what publisher could resist bidding out the branding? Certainly not Alfred A. Knoph.

*inexplicably, the model name is not mentioned.